First let me start by saying how much I love building my own computers and how much I love Mac OS X 🙂 I've been working with computers for about 19 years now (professionally for the last 15 years) and for the first 8 or so years of my professional computer based career I relied solely on custom built PC's running Windows but a business partner and great friend of mine Ryan Johnson (RJ2 RIP) reluctantly introduced me to Mac OS and Apple hardware in 2003 and I've been a die hard fan ever since so I think it's only natural that I combine my love of building computers and my love for everything Apple and Mac OS in this beautiful i7 Hackintosh Build 🙂
(The Complete Parts List Can Be Found At The Bottom Of This Article)
Ah today is a great day! Just 2 days ago I ordered my custom i7 rig piece by piece from NewEgg.com and today while watching a movie the UPS guy knocks at the door and I answer with a smile on my face 🙂
Now that we've got our build parts I think it's important to start randomly stabbing the packages until the parts are shattered all over the floor, No but seriously take your time and open and unpack the boxes carefully there's all kinds of little parts and random stickers and such that can be missed in NewEgg's bubble packaging if you're not careful, It would also really suck to be in a rush and scratch your beautiful new Lian Li case now wouldn't it 🙂
After a minute of sifting through all the bubble packing in our box it looks like everything made it here on time, weehoo! 🙂
By sure to take your time and unpack each item making sure not to let any of the electronics sit anywhere that static may be able to effect them (such as the bare floor etc) you shouldn't have any issues if you just unpack them and place them on the boxes they were shipped in at a handy distance for building the system.
Note: Items such as the motherboard and hard drive that come wrapped in anti-static paper should be placed on top the anti-static paper on top of the box until you're ready to install the items into the case and motherboard.
Now it's time to put this bad boy together lets start by making a coffee (this step's optional) now lets open up the case and take the screws and such that are sure to be found in a box taped to the inside of the case somewhere and lets lay those out in an easy to reach place, We'll need them for the build obviously. Building a computer is very easy but if you haven't done this before there is tons of information on the actual building of the system all over google so just take a look or just give it a shot, Honestly if you're cautious you can't really mess anything up just take your time and see what goes where as each part only fits in one place on the motherboard it's pretty basic a lot like playing blocks as a kid, the square only fits in the square and the circle only fits in the circle, Yes it really is that easy the more difficult technical part comes later when installing OS X on this by default unsupported hardware.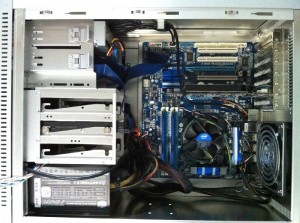 Ahh she's a beauty!! I think I'll call her Butters #2 after my lil pup Butters lol 🙂 Now time to see if she runs as good as she looks on the first try!
Now it's time to setup the BIOS, Boot your system into BIOS (When you turn it on It will say hit Delete now to enter BIOS so just hit Delete when asked to) once BIOS is loaded up the easiest way to get it configured to run as a Hackintosh is to "Load Optimized Settings" then goto "Integrated Peripherals" now you'll want to change your boot order to boot CD/DVD first then boot Hard Drive also change "PCH Sata Control Mode" to "AHCI", "SATA Port 0-3 Native mode" must be DISABLED and set "HPET" to "64-bit mode" this should be all you need to change to get this method of Hackintosh install to work for your new Gigabyte board.
(Note: Different motherboards require different configuration and some are simply not compatible)
Once your BIOS is properly configured you'll need to burn an iBoot iso to a blank CD, Download the iBoot.iso here once you've burned the iBoot.iso to disk insert your iBoot disk that you've just created and reboot the computer, When the system loads off the iBoot disk you'll see a screen that says iBoot in the middle of it with a picture of a CD, Now simply eject the CD and put your Max OS X install DVD into the DVD drive and Press F5 now select your Mac OS X Install disk to boot off of.
Note: There are many random errors you can get while doing this such as "mac os x can't be installed on this computer." this error in most cases simply means that the Mac OS X install disk you're trying to use isn't valid for this time of Mac (aka Our Hackintosh) for example the install disk you've most likely borrowed is an install disk from a MacBook Pro and won't work with a Mac Pro (what our system will likely register itself as post install) long story short google your error codes should you have any and find out what the issue might be and try another Mac OS X install disk if all else fails.
After the Mac OS X Install boots and select your language it will bring up the main install screen make sure you launch Disk Utility and partition your hard drive to GUID Partition Table then format your hard drive to Mac OS Extended (Journaled) once this is done go back to the step by step Mac OS X install screen and complete the install. It's important to note that after the install you might get a screen that says "Install Failed: Mac OS X Cannot Be Installed on this Volume" this is normal just restart as it says to and select your new Mac OS X boot drive at the chameleon boot screen.
After a successful install you'll need to setup your new Mac OS X install with the proper drivers which are called kext files on Mac OS X and the easy way to do this is using MultiBeast 2.0 so Download MultiBeast Here you'll also want to Download The Mac OS X 10.6.4 Update Here and you'll need the custom DSDT.aml file for your motherboard which you can Download Here if you have the same motherboard we did in this build however if you used a different motherboard chances are you can find the proper DSDT file Here.
Once you've got the necessary utilities download simply place the DSDT file on your Mac OS X desktop then open MultiBeast and check the UserDSDT option also check the System Utilities option in the install menu but do -not- start the install yet, Now open and run the Mac OS X Combo Update you downloaded earlier, At the end of the install it will ask you to click Restart do not do this at this time you want to finish the MultiBeast install, Once the MultiBeast install is complete you can close MultiBeast and select reboot from the Mac OS X Combo Update screen.
Your new Hackintosh should be up and running with all onboard hardware working properly however if it's not (as one of my installs wasn't) odds are you'll only need to fix your audio and ethernet at the most and if this is the case all of the files you'll need can be Downloaded Here
If the Audio isn't working make sure you first try going to System Preferences and going through selecting all of the Output Devices and testing them to confirm you didn't simply have the wrong Output Device selected, If you've confirmed that the audio is in fact not working simply do the following:
1. delete all LegacyHDA driver in /Extra/Extension
2. delete AppleHDA.kext and HDAEnabler.kext in /System/Libarary/Extension
3. Using Kext Utility to remove the driver cache
4. Using Disk Utility to repair the permission
5. Install the AppleHDA.kext and HDAEnabler.kext using "Kext Helper" (which was previously installed to the application directory with MultiBeast)
6. Run "Kext Utility" which was previously installed to the application directory with MultiBeast
7. Run "Disk Utility" and select your hard drive with Mac OS X Installed on it then click "Repair Disk Permissions"
8. Reboot and your audio should be working (if it's not simply try all of the output devices again and it should be working, If it's not just post on this blog or email me for help I'll do my best to help you out)
If your ethernet isn't working simply install the RealtekR1000.kext using "Kext Helper" (which was previously installed to the application directory with MultiBeast) then run SnowR1000 which was also included in the "Extras" download then run "Kext Utility" from your applications directory then run "Disk Utility" and select your hard drive with Mac OS X Installed on it then click "Repair Disk Permissions" then reboot and your ethernet should be working perfectly (if it's not retry this process and this time use RealtekR1000SL.kext and it should be working, If it's not just post on this blog or email me for help I'll do my best to help you out)
That's it folks! I hope this Hackintosh tutorial helps someone out there build their dream system, If you have any questions or input on this topic please feel free to post on this blog or email me I love getting feedback from the community, Thanks!
Very useful external resources:
Complete iBoot and MultiBeast install guide step by step by the creator of iBoot and MultiBeast
Matt most recently started working with Scott Keever on local St Pete SEO while traveling in Florida for the summer.